There are a variety of hazards to athletes as they participate in their chosen sports. Overuse of joints or muscles can lead to chronic pain. Trauma to an area can lead to a sprain, strain, fracture or dislocation. Toxins, leading to cramping and weakness, can build up.
Physical Therapy is a health care practice involved in the evaluation, diagnosis and treatment of these conditions, thereby creating and following a plan for treatment that strengthens, restores and even surpasses the original level of performance from the areas of concentration.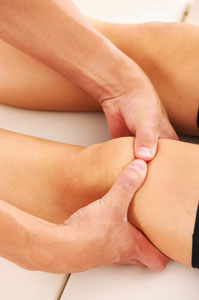 Physical therapy at Gautier Health Care utilizes a unique, proprietary method, complete with a selection of manipulative treatments, stretches and both passive and active exercises which help restore the body back to health.
Simply, we get you moving freely and without pain.
While many mainstream physical therapy centers operate without an actual doctor on-site, no treatment at Gautier Health Care would ever be done without a doctor physically present.
All of our therapists have been personally trained by the doctor, who will make sure treatment progresses as it should by giving recommendations and overseeing
every
patients' progress.
Should you wish to learn more about physical therapy services at Gautier Health Care,
contact us
with any questions you may have or to make an appointment.